Orchid Pest Guide
Our free guide teaches you how to identify, fight, and prevent the the most common types of orchid pests.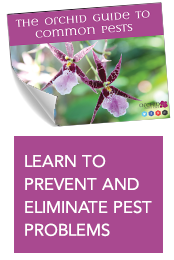 Insects can become a huge problem for orchids. In this free guide pest expert, Suzanne Wainwright-Evans of Budylady Consulting, shares with us her knowledge on these irritating bugs.
Learn:
What kind of destruction each insect can cause
How to identify these common pests
Easy ways to spot an infestation
What treatment options are available
How to prevent orchid insect infestations
Simply fill out the form to the right to receive your free copy.
Fill out the form for your free copy of
Orchid Pest Guide.
Providing this information helps us as we create new resource materials! Thank you!