4 Reasons You Will Fall in Love with Mini Orchids
Author: Celeste BoothNo Comments
Care and Culture, Growing Indoors

Perhaps you've seen these miniature phalaenopsis orchid's popping up for sale. Just like regular-sized moth orchids, these minis come in all sorts of exciting colors. They are great as gifts, additions to your own home, or great for livening up a work space. Here are 4 reasons why you may want to be adding them to your collection sooner rather than later:
1. They FIT almost anywhere!
These little beauties are ideal for any location where you don't have lots of space for larger houseplants. Because of their abundant blooms, they make great additions to an office desk, small spaces in your bathroom, or in pairs together to help balance out other parts of your home! These smaller orchids are easy to keep in little pots, but if you have the space for a larger container, try putting a few in together. It can create a stunning look and be great as a centerpiece or help light up a room.
2. They make beautiful, easy-to-care-for gifts
The second great thing about mini orchids is that they are easy houseplants, and therefore great gifts! There's nothing worse than gifting someone a plant that is a challenge to take care of and that will most definitely end up dying. Those kinds of gifts make both the receiver of the gift as well as the gift giver feel bad. Miniature phalaenopsis orchids only need to be watered about once every 20 or so days, and will thrive in a brightly-lit room (not direct sunlight). Since most mini orchids are potted with sphagnum moss (a media that retains water very well) be sure not to over-water them, as this may lead to root rot.
3. Did we mention how colorful they are?
Mini orchids come in the same dazzling colors as their larger counterparts. That, in conjunction with their numerous blossoms, means these little guys are jaw-droppingly beautiful! You can mix and match, you can play off the color accents in the room, you can add a pop of color in an otherwise neutral space, or even bring in white flowers for a simple and pure look. And don't just limit these to your home, orchids are great additions to doctor offices, banks, restaurants,  hotels, and more! Think of where you want to brighten up someone's day, in addition to the overall decor of the room.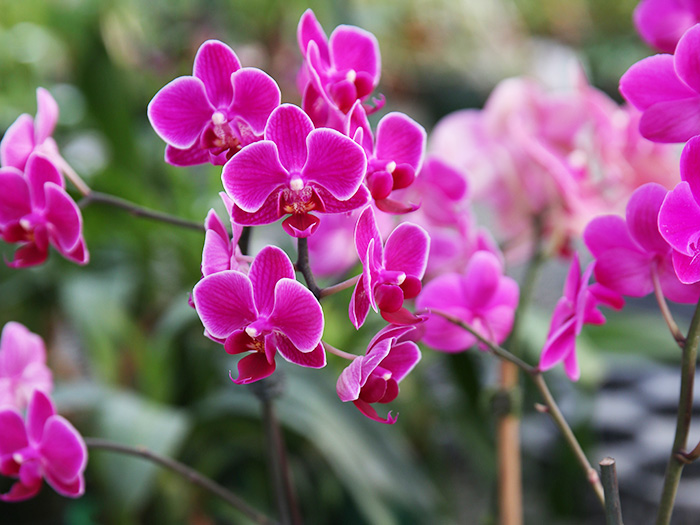 4. Hugely popular? Yes. Wallet emptying? No.
Don't expect to pay more than $30 for your mini orchid. While this isn't exactly "cheap" compared to some houseplants, consider the fact that it's taken the grower plenty of time to raise this orchid to maturity and that once your orchid blooms, they will remain blooming for an extended period of time. That's not something you can say about most houseplants. Given the right conditions, your orchid will blossom on and off for years to come!
If you have a mini-orchid, submit a photo to our Photo of the Week contest for a chance to be featured!


Ask an Expert
Questions about orchids?
Our experts love a challenge!